How To Send Stunning Automated Newsletters and With The Newsletter Plugin
Sometimes it's a too much trouble sending out a regular newsletter – it takes time to repeat steps that you're already taking when you post to your WordPress Blog.
That's the reason you should take a look at "The Newsletter Plugin". It's a free download to get started with some premium extensions that further enhance an already powerful way to market your WordPress site on autopilot.
Unlimited sends and subscribers – Yo can send as many newsletters you like, to how many recipients you want. We will never ever limit your traffic: server is yours, yours is the choice.
Opens and click tracking – You get instant access to all your newsletters stats
Single or Double Optin – You can decide which solution works best for you.
Detailed reports – Clicks, opens, time to interaction diagram, links clicked detail, geolocation, and more (Extension).
Automated Newsletter – Automatic newsletters generation with latest blog posts, events and any other custom post type (Extension).
Subscription Widget and Configurable Forms – Already built in to collect subscriptions flawlessly.
Visual Editor – An easy to use visual content editor is integrated in the plugin, is built in.
Automated Follow Up – Add Your Own Complete Marketing Series
Sound interesting?
The Newsletter Plugin is available as a standard WordPress Plugin. The real magic happens with the available extensions. My favorite of course is the Post to Email plugin that automatically sends your newsletter out with the content take directly from your most recent WordPress Posts
It's easy to setup and a breeze to use. See the videos below for all the details.
What are the requirements?
No prior knowledge of WordPress is required as everything will be covered in this course.
What is the target audience?
Anyone that wants to send a regular newsletter
Anyone who use content marketing
Anyone who uses email marketing
Anyone interested in watching over my shoulder as I work on a real, live WordPress Powered website
Get Higher Visibility, More Traffic and Increase Sales!
About the Course
Learn how to Install, Setup and Configure the AffiliateWP plugin the right way and you'll enjoy increased sales.
Affiliates constantly promote your products and services, drastically improving your website's SEO. With more traffic and higher visibility more people will visit your website, and see your products and services.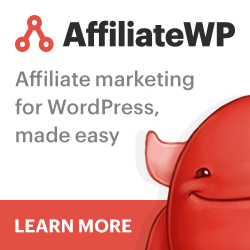 More Targeted Traffic = Increased Sales
Having referred traffic to your website means an increased likelihood of converting them into real customers.
This WordPress Online Training Course contains all the information you need to use the AffiliateWP plugin to build your WordPress Blog powered business.
Who is this WordPress course for?
The course is ideal for WordPress Marketers who want to tap into other peoples traffic and automate the complete process of having a virtual salesforce.
What is the target audience?
Anyone that wants to build a website
Anyone that wants to master WordPress
Anyone that wants to build a WordPress Powered Business
Anyone interested in watching over my shoulder as I work on a real, live WordPress Powered website
Easy Digital Downloads eCommerce
This course will take you through the installation and configuration of the free Easy Digital Downloads plugin for WordPress. After completing this course, you will have a fully functioning digital downloads store on your WordPress website.
The "EDD" plugin is 100% free on the WordPress plugin repository and is the most powerful and easy way to sell digital products from your WordPress-powered website.
What are the requirements?
Before taking this course, you should be familiar with running your own WordPress self-hosted website. You should also be familiar with what WordPress plugins are, and how to install and activate them on your site.
Course takers should have a website powered by WordPress.
What am I going to get from this course?
Over 10 lessons and 90 minutes of content!
By the end of this course you be able to sell digital products from your website.
What is the target audience?
This course is intended for those wanting an easy way to sell digital products from their WordPress websites. Products like ebooks, audio files, video downloads, or even services and software like plugins for WordPress.