Get Higher Visibility, More Traffic and Increase Sales!
About the Course
Learn how to Install, Setup and Configure the AffiliateWP plugin the right way and you'll enjoy increased sales.
Affiliates constantly promote your products and services, drastically improving your website's SEO. With more traffic and higher visibility more people will visit your website, and see your products and services.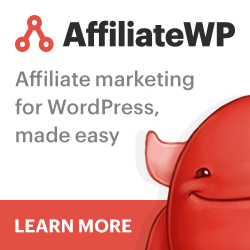 More Targeted Traffic = Increased Sales
Having referred traffic to your website means an increased likelihood of converting them into real customers.
This WordPress Online Training Course contains all the information you need to use the AffiliateWP plugin to build your WordPress Blog powered business.
Who is this WordPress course for?
The course is ideal for WordPress Marketers who want to tap into other peoples traffic and automate the complete process of having a virtual salesforce.
What is the target audience?
Anyone that wants to build a website
Anyone that wants to master WordPress
Anyone that wants to build a WordPress Powered Business
Anyone interested in watching over my shoulder as I work on a real, live WordPress Powered website
Take this Course